For-A > Video Switchers > HVS-390HS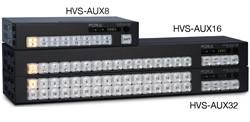 Contact Us:

04-37831601
Catalog : For-A > Video Switchers > HVS-390HS
Views : 2234
The Auxiliary Unit options (HVS-AUX8, HVS-AUX16 and HVS-AUX32) are designed for
auxiliary bus output selection use with FOR.A's Hanabi series and VPS-700 series switchers. Configure multiple Auxiliary Units to further expand signal selection capability.
Features
 Up to 16 Auxiliary Units can be cascade configured via ARCNET connection in the Hanabi system and up to 12 Auxiliary Units in the VPS-700 system. (An Arcnet hub is required depending on the number of the units.)
 Front panel LED menu display at each unit for making operation and communication
settings.
 HVS-AUX8 units are a 16-signal selection type HVS-AUX16/32 units are a 38-signal selection type (HVS-AUX32 has 32 single signal selection buttons.)
 Remote mount available with an optional front panel separation kit (HVS-AUX8RK or
HVS-AUXRK)
Other Products

Contact Us:

04-37831601


Contact Us:

04-37831601


Contact Us:

04-37831601