Broadcasting > Quantel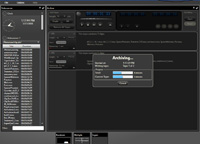 Contact Us:

04-37831601
Catalog : Broadcasting > Quantel
Views : 1478
Mission – Media Asset Management
Mission VTR
Mission VTR is a separate, stand-alone application. Mission VTR provides synchronised ingest from
VTR and/or playout to tape, that is, it simultaneously manages the VTRs and sQ server ports. A single Mission VTR application will handle two sQ server ports or four as a chargeable option. Mission VTR can control up to four VTRs for simultaneous tape loading/dump sessions.
Mission VTR may be allocated ports permanently or using Port Release Jobs inserted in Mission Transfer.
A designated hardware module controls VTR devices using Sony 9-pin serial protocol. Multiple connections are via a specified break-out cable. Signal and RS422 routing will be manually set via user-operated Router Control panels as supplied by the router manufacturer. The customer is expected to supply PC hardware based on a Quantel specification.
See more details at