Broadcasting > Quantel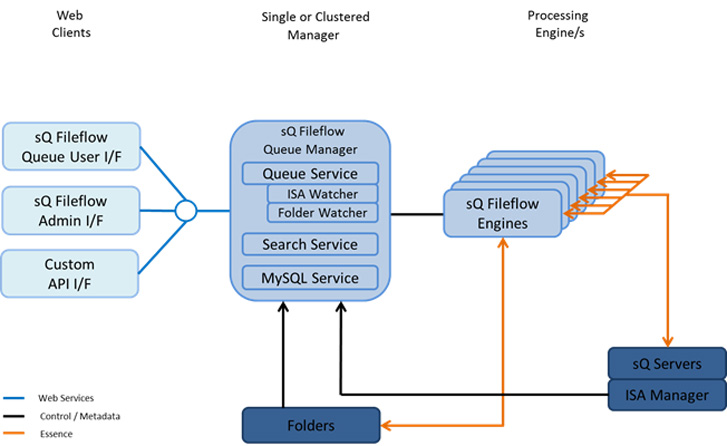 Contact Us:

04-37831601
Catalog : Broadcasting > Quantel
Views : 2580
sQ Fileflow is a workflow application designed to integrate media files between ISA/sQ production systems and IT based workflows. It is a 'mid-tier' SOA (Service Orientated Architecture) component making its services available via Web Services.
sQ Fileflow will support all the existing sQ media formats - AVC-Intra, DVCPRO HD, IMX, DVCPRO, DVCAM. It also has the ability to transcode XDCAM HD files on import or create them for export. Files from both an XDCAM HD disc or network folder location are supported. Imported files need to be wrapped as MXF OP1a, and exported files will also be wrapped as MXF OP1a.
The sQ Fileflow system is designed to be scalable. Additional Engines can be added to enable multiple import / export jobs to be processed at the same time, and additional system level resilience is available via Clustering of the Queue Managers.
The user interfaces to sQ Fileflow are Web based and run in standard Browsers on networked computers without the need for special Firewall configurations. HTTP based APIs are also available for customers to create their own client applications and control workflows.
The import workflow is designed to be automatic; taking files from designated Watch Folders and moving / transcoding them to the ISA/sQ system. Export of files is triggered by a user defined metadata triggers added to the clip properties.
See more details at