Broadcasting > Quantel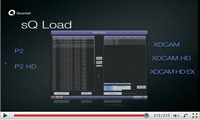 Contact Us:

04-37831601
Catalog : Broadcasting > Quantel
Views : 1710
sQ Load Product Information
sQ Load is a central ingest tool for loading of P2, XDCAM and XDCAM EX material. The application runs on PC hardware to be provided by the customer to Quantel specification. Hardware requirements are detailed in the PC specifications section.
See more details at