Ikegami > HDTV > Monitor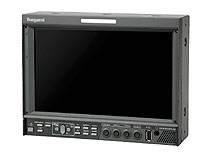 Contact Us:

04-37831601
Catalog : Ikegami > HDTV > Monitor
Views : 1532
This 17-inch type HDTV/SDTV multi-format color monitor employs a liquid crystal panel for reduction in thickness, weight and power consumption, and is designed for use in various spaces such as sub-control rooms, editing rooms, monitor wall, transmission control desks, and outside broadcast vans. This monitor is compatible with the functions and operation of the HTM/TM series CRT monitors, so that it can realize the functions necessary for a broadcasting service monitor with conventional operation.
» HLM/HTM series brochure (8MB PDF)
High Performance Liquid Crystal Panel
Employed is a liquid crystal panel with a high resolution of Wide-XGA (1280 x 768 dots) that is excellent in basic performances such as high brightness, high contrast, wide viewing angle, quick response and good color reproducibility.
See more details at
http://www.mediafire.com/download/8m3osl85tmufof2/HLM1704WR_manual_E_R2.pdf