Ikegami > HDTV > Monitor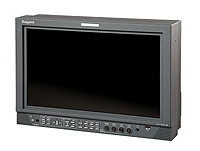 Contact Us:

04-37831601
Catalog : Ikegami > HDTV > Monitor
Views : 1605
HLM-1750WR employs a 17-inch Full HD LCD panel (1920x1080) with wide critical view angle, excellent brightness and contrast, fast response time, and faithful color reproduction. Supporting Multi-format SDI input, also DVI-D and VBS inputs as stnadard and 3G-SDI input as an option. It also achieves space-saving,light weight, and low power consumption.
See more details at
http://www.mediafire.com/download/97zbv4kj5s8r4jn/HLM1750WR_manual_E_R7.pdf