Ikegami > HDTV > Monitor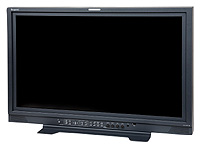 Contact Us:

04-37831601
Catalog : Ikegami > HDTV > Monitor
Views : 1501
The HLM-3250W employs a 32-inch Full 1920x1080 Pixel 10-bit resolution LCD panel, and achieves thin size, light weight, and low power consumption. Supporting Multi-format SDI input, also DVI-D and VBS inputs as standard, and 3G-SDI input as an option. By employing a Full 1920x1080 pixel 10-bit LCD panel which has wide viewing angle, high brightness, high contrast, quick motion response, and superb color reproduction, the HLM-3250W achieves real pixel allocation without resizing and superb gradation characteristics for a wide range of broadcast applications, including use in monitor walls.
See more details at
http://www.mediafire.com/download/rig98kecky6hx6k/HLM-3250W_E.pdf