Ikegami > HDTV > Monitor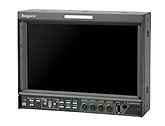 Contact Us:

04-37831601
Catalog : Ikegami > HDTV > Monitor
Views : 1511
This HLM-904WR is a low-profile, lightweight and low power consumption HDTV/SDTV multi-format LCD color monitor using an 9-inch liquid crystal panel, which has been developed in consideration of effective use in various locations such as control rooms, editing rooms, monitor shelves, transmission control tables and outside broadcast vans. Employed is a liquid crystal panel with a wide viewing angle of Wide-VGA. By inheriting the function and operation of our CRT monitor HTM/TM series, this monitor achieves the conventional operation the function required of a monitor for broadcasting services. Also it uses with a dual rack mount.
High-performance liquid crystal panel
The monitor is equipped with a liquid crystal panel that is excellent in key properties such as high intensity, high contrast, wide field-view, fast response and accurate color reproduction.
See more details at http://www.mediafire.com/download/y0y0xrwchpjjdh4/HLM904WR_manual_E_R2.pdf