Broadcasting > VSN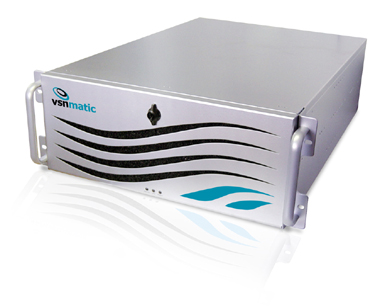 Contact Us:

04-37831601
Catalog : Broadcasting > VSN
Views : 1983
VSNMATIC - VIDEO SERVER AND AUTOMATION FOR MASTER CONTROL ROOM
A complete playout and MCR solution, cost-effective, open and scalable for mono
or multichannel operations.
FLEXIBLE AND ROBUST MCR PLAYOUT
A MCR Playout designed to automate the broadcasting, used by over 500 TV channels.
VSNMATIC playbacks video from hard disk, control VTRs and other external routing elements to obtain a fully unattended playout. The system is designed for multiformat SD/HD support and is compatible with any peripheral equipment that needs to be controlled. The different redundant configurations available make this solution fit almost all broadcasters' budget.
VSNMATIC is a platform designed for network environment. The video server can get the relevant content from different sources through the local area network and its automation
software automatically assigns the footage to the scheduled Playlists.
VSNMATIC interfaces with most content management solutions, especially with VSNARCHIVE. Besides, it also automates all the processes involved in a Master Control Room management. Remarks and suggestions by many users have been included in
the latest versions of the software, thus making VSNMATIC's interface specially user-friendly for most broadcast channels. The user interface is based on drag & drop elements, hiding the standard Windows file management and allowing the user to have file references by the metadata fields.
The categories can be created per content (commercials, news library, chat shows, etc) or other customer's criteria supporting different formats and codecs in each group. Customers choose whether to share content and databases, as well as the size of
the required storage and its level of redundancy. All designed parameters are always scalable. Each playlist item can be a clip coming from hard disk, from a VTR controlled by VSNMATIC, from an exterior line, from studio or satellite feed, from a fixed image, etc. VSNMATIC allows working with multiple playlists or line blocks to facilitate the new playlists' creation based on the ones created days earlier.
FEATURES
Multiformat support (SD-HD), including SD to HD optional upscaling
§ Optional Branding (graphics)
§ Reliability, error free
§ Remote control of all the processes via local area
network or the Internet
§ Scheduling and advertising management optionally integrated (VSNCREATV)
§ Powerful, yet easy-to-use, user interface
§ Latest client/server database and SQL server technology
§ Modular expandable video storage and number of channels according to the customer's specific needs
§ Bi-directional connection with ingest and newsroom playout through TCP/IP protocols
§ Content preview capabilities (VGA)
§ Optional video preview channel (Matrox versions)
PDF file with more details