Broadcasting > VSN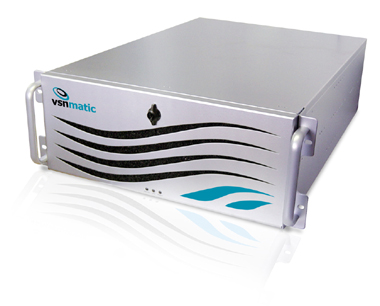 Contact Us:

04-37831601
Catalog : Broadcasting > VSN
Views : 1961
VSNmatic is a modular, open and scalable system that has been designed to automate 24x7 a TV station's broadcasting. Developed on Windows platform since 1996, its robustness for 24x7 operation is well known and more than 400 broadcasters in many countries operate this sophisticated, yet easy to use, solution.
VSNmatic has the capability to playback video from hard disk, control VTRs and other external routing elements to obtain a fully unattended playout. The system is designed
for multiformat support both SD and/or HD. VSNmatic integrates easily in the MCR, no matter which peripheral equipment needs to be controlled. The different redundant
configurations available make this solution fit almost all broadcasters' budget.
VSNmatic is a platform designed for the network environment. It is composed of proven technology products to obtain a total integration and automation of the continuity system. the video server can get the relevant content from different sources through the local area network and its automation software automatically assigns the footage to the scheduled playlists. VSNmatic interfaces with most content management solutions, specially with VSNSharer.
See more details at