Broadcasting > VSN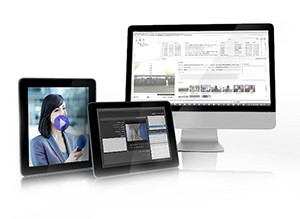 Contact Us:

04-37831601
Catalog : Broadcasting > VSN
Views : 1488
VSNIPTRANSFER - The Ultimate Cloud-based Broadcast Content Exchange Tool
No Speed Limits in the Cloud
Modern societies demand greater accessibility to audiovisual contents supplied by their providers. The traditional spreading system whereby users act passively by simply receiving information supplied by the broadcasters, leaving no room for interaction, is clearly insufficient. Today, users need to access a wider range of contents; select where
and what they want to view them thus interacting with the contents provider in real time.
The current state of the technology allows transferring audiovisual contents not only through the traditional radioelectric connections but also via IP networks. Today, the
access to IP networks is not a privilege of personal computers as most modern audiovisual devices (PDAs, Camcorders, Cell phones, etc.) can access them. In addition, the new wireless technologies (Wi-Fi, WiMax, UMTS, 3G, 4G,…) make the use of IP networks very attractive as they let users move freely around, detached from a particular device or a specific physical location.
In this new context, we suggest the development of a new project consisting of a new platform for the transport of broadcast-quality audiovisual contents over IP-based networks interactively in real time. The aim of this project is the replacement of the current video infrastructures (the distribution of contents via satellite, tapes...) by the efficient use of IP technology-based networks thus providing a complete integration for the safe transport of professional audiovisual contents.
See more details at